Build a Smart Desktop, Faster
Finsemble 5.0 Release
October 8, 2020—Finsemble 5.0 introduces a suite of features and improvements empowering development teams to move faster while continuing to enhance the end-user experience. Watch to learn why 5.0 is our most maker-centric release to date.
ChartIQ V8 Release
September 10, 2020
Listen to Chief Product Officer Eugene Sorenson showcase of all the great new features in ChartIQ Version 8.0, such as new technical indicators for projected volume at time, enhancements to Life Cycle Events, and new Native API for mobile.




Finsemble + Adaptive
May 14, 2020
Micro-frontends: the future of web applications for the smart desktop. In this webinar, Adaptive joins us to explore the benefits of micro-frontends for both development organizations and users.
Learn more about micro frontends
Integrated Workflows: From Nice-to-Have to Business Continuity Imperative.
June 9, 2020
In the midst of a pandemic, firms are discovering the investments they made in digitization initiatives changed from ways to increase efficiency and effectiveness, to critical business continuity infrastructure. Join industry experts to discuss how banks and technology firms are collaborating on next-generation digital initiatives to handle global work-from-home orders.
Finsemble 4.3 Release
June 25, 2020
As smart desktop providers embrace new FDC3 standards, application interoperability is entering a watershed moment. With Finsemble 4.3, it's now possible to leverage the latest FDC3 universal standards in your smart desktop project. Join us to to see demos of Finsemble 4.3 FDC3 1.1 support (such as intent, context and app directory specifications), advanced notifications and many developer enhancements.
Learn more about FDC3
Data is the New Black.
June 2, 2020
Join ChartIQ Chief Commercial Officer Julie Armstrong and Crux Informatics CTO Mark Etherington as they discuss navigating the changing landscape of data and technology over the past decade.
Three awesome new ways to use ChartIQ visualization.
May 28, 2020
In this webinar, Client Success Engineer Jimmy Stevens shows you three new ways to use ChartIQ: including integrating analysis directly on the chart.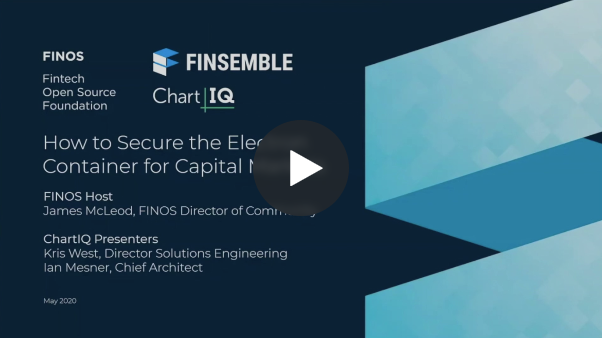 How to secure the Electron container for capital markets.
May 20, 2020
Smart desktop technology is changing the way we work, but bringing web technology to the desktop creates security issues that must be mitigated. Join us as we outline the steps we took to secure our smart desktop platform, Finsemble, and highlight the use of our Secure Electron Adapter.
Learn more about Finsemble security
Trading Central and ChartIQ: Expert Analysis at Your Fingertips
July 7, 2020
ChartIQ and Trading Central bring together rich, interactive time-series charts with expert analysis and technical signals. In this webinar, learn how users can leverage Trading Central to gain market advantage.
Learn more about ChartIQ + Trading Central
ChartIQ 7.5 Release
May 5, 2020
Chief Product Officer Eugene Sorenson showcases what's new with ChartIQ. Term Structure Graph, Elliott Wave Drawing Tool, D3.js integration and more.