Trader workflows in action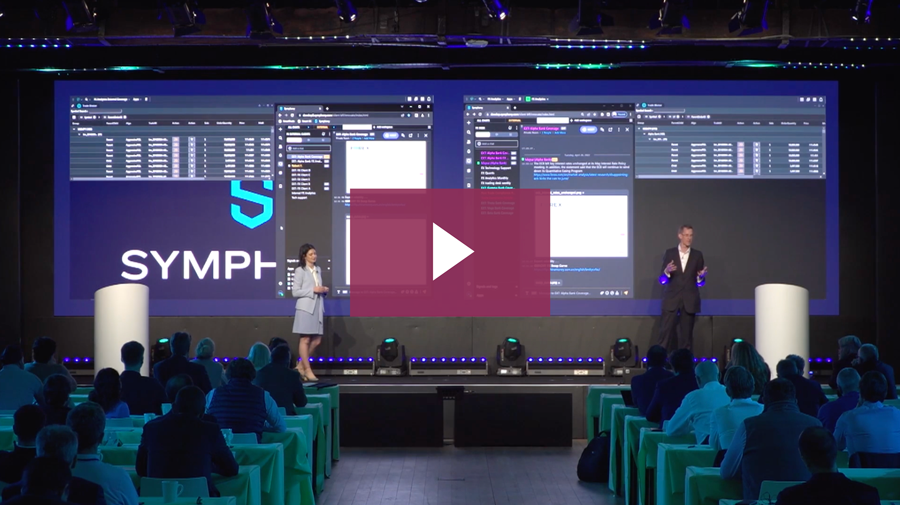 If you missed Symphony Innovate in London, check out this demo showcasing Symphony's interoperability, flexibility and open architecture via FDC3—all orchestrated by Finsemble. The demo showcases FX liquidity trading via Tradfeedr and trade analytics by ChartIQ. It's a fantastic example of a real world use case featuring the power of FDC3 and Finsemble for trader workflows.
Watch Symphony demo Finsemble and FDC3
Finsemble named "Most Innovative Smart Trader Desktop & Workflows" at A-Team Innovation Awards 2022
"We are honored to take home the award for the most innovative smart desktop. Finsemble has been consistently raising the bar for interoperability platforms since its release in 2017," says Dan Schleifer, Cosaic CEO. "In the past year alone we've propelled our offering ahead of the competition in a number of ways."
Learn why Finsemble won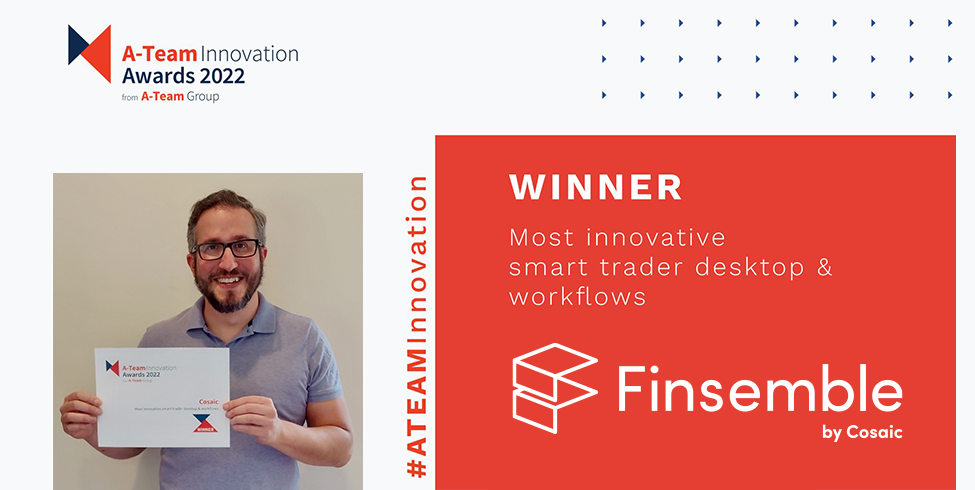 Finsemble for sales and trading floors
Connect disparate tech to expedite decision-making.
Whether it's market data tools, chat, risk management, order management, or CRM, sales and trading floors have more tools than ever, and rarely do any of them work together. This disjointed environment takes the one lifeline traders and sales floors have—the potential power of technology—and creates a chaotic desktop environment. See how Finsemble improve sales and trading workflow.
Featured partner workflow
ipushpull delivers an API that lets you securely share data between desktop applications like Microsoft Excel, mobile devices and cloud services in real-time, without sending files. The partnership between ipushpull and Finsemble extends significant value to Finsemble customers who want to enhance data sharing capabilities, stitch together top performing workflows quickly, and increase efficiency in the front office and beyond.
See more third-party workflows.
Integrated workflows: from nice-to-have to business continuity imperative
In this unprecedented era, firms are discovering the investments they made in digitization initiatives changed from ways to increase efficiency and effectiveness, to critical business continuity infrastructure. In this webinar, industry experts met to discuss how banks and technology firms are collaborating on next-generation digital initiatives to handle global work-from-home orders. Check out this recording on demand. Speakers include: Citi Ventures, Bloomberg, Illuminate Financial Management, and iPushPull.