User experience
Finsemble is unique in that it provides a complete, fully branded, intuitive user experience. Finsemble leads the industry in user interface, with a comprehensive UI/UX toolkit including everything from floating, dockable launchers and application catalogs to consistent title bars for HTML5, Java, and .NET applications.
Native support
Finsemble is the only desktop interoperability platform with complete support for native applications built in .NET and Java. Beyond API-level access, Finsemble offers full window and workspace management (snap, dock, persist state, etc), context sharing (FDC3, drag-and-drop), UI (title bars, linker components, etc.), search, and desktop notifications. Finsemble also features patented assimilation for no-code integration of native apps.
Connect to the enterprise
Interoperability platforms must go beyond connecting apps—they must connect the desktop experience to the rest of the enterprise. Finsemble stands alone in offering an app authentication framework connected to SSO, entitlement-driven configuration of the UX, and adapters which connect to storage systems for items such as user profiles and workspaces.
White-glove support
Cosaic Client Success works with client teams from proof of concept to end user rollout, including strategy, planning, developer training, third-party integration, implementation, and support. We're a product company focused on the success of your project from start to finish.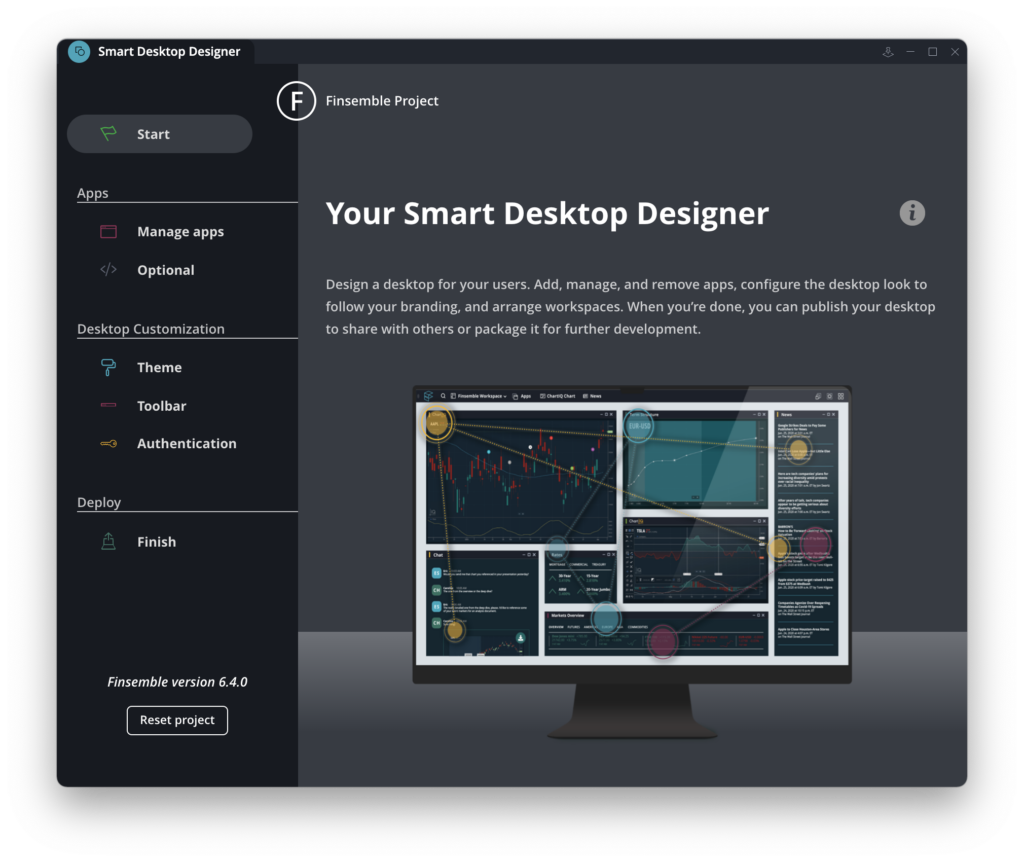 The Smart Desktop Designer: fast-track to interoperability
Finsemble is the industry's first no-code smart desktop platform. In under an hour, clients can assemble any type of application into shareable, publishable workspaces. This means your Innovation Officer, Head of Product, or any business user can build a smart desktop without developer support.
Point and click GUI expedities application integration, UX design, and security
Assemble, customize and deploy into production a complete smart desktop in under an hour
FDC3-enabled applications can interoperate out-of-the-box
Save development resources and see faster time to market
Learn how interop can work for you