What can Finsemble do for you?
With Finsemble, experience a new way to work within a truly unified desktop environment. Communication between any type of application (modern or legacy, in-house or third party) extends across multiple windows and monitors. Connected applications can solve a variety of business problems. How can we help you shape a new way to work?
Work (flow) like never before.
Harness the power of interoperability.
Once your applications start talking to each other, that's just the beginning. Share information back and forth seamlessly between the applications you use every day, and eliminate error rates due to copy paste and navigating browser tabs. Work smarter, leaner, and more efficiently with automated workflows you don't even see.
Workflows of the future.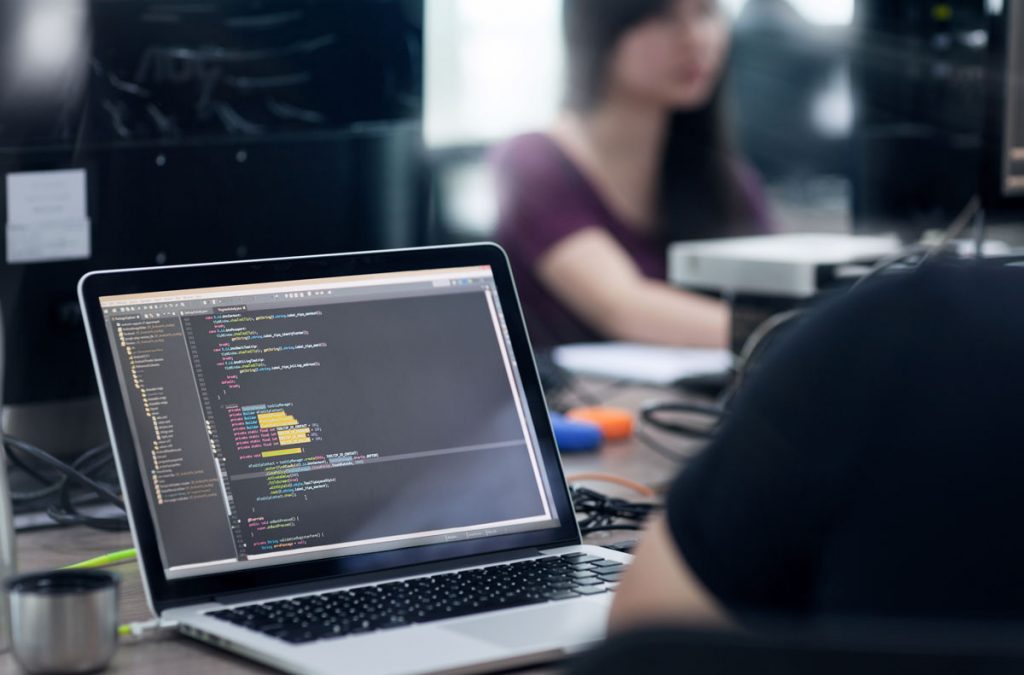 Built by software engineers, for software engineers.
Our software development kit allows you to deliver a smart desktop to users faster than the competition. Because we discovered and solved complex development problems for you, applications can begin sharing information right away and customized workspaces can be quickly assembled – with both Windows and Mac OS support.
Finsemble provides out-of-the-box features you won't find anywhere else. Check out our post, Questions to Ask Before Building a Smart Desktop.
See What You Get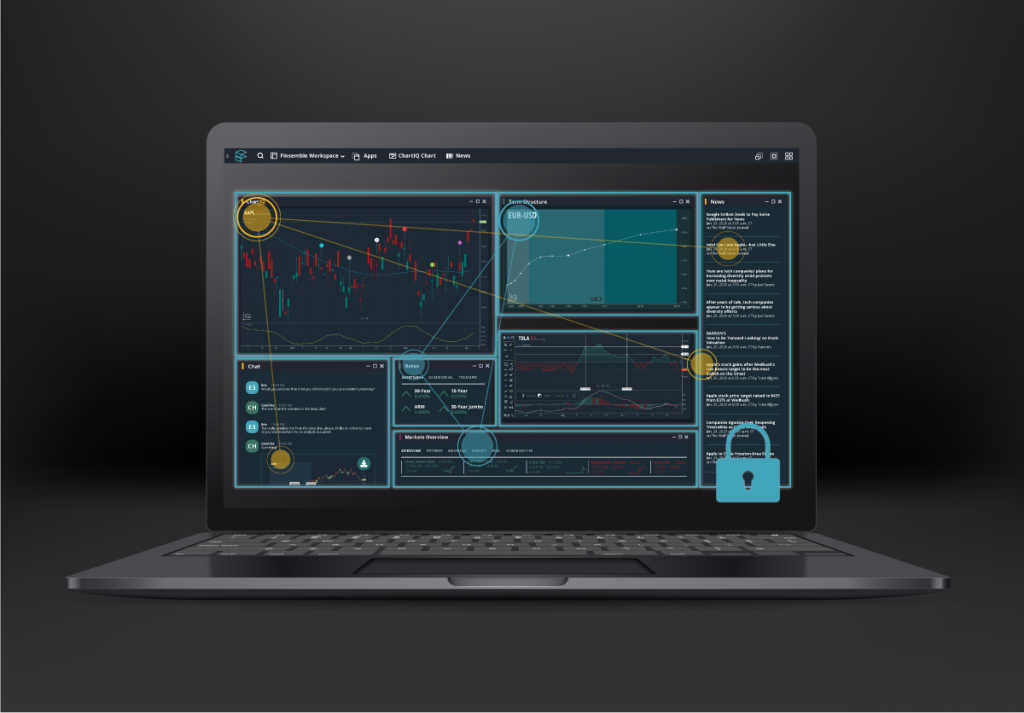 The gold standard in security.
Once you bring web technology to the desktop, security issues arise that must be mitigated. By making the choice to run Finsemble on the world-renowned Electron platform (and adhering to FDC3 standards) we became part of a community with one common goal: to improve the way applications interact on the desktop.
We are here to shape a new (and secure) way to work.
Learn How We Did It
By leveraging
two powerful integration layers
, entire desktop solutions can be assembled in hours instead of months.
Visual Integration
All applications launched by Finsemble share an aesthetic. This look and feel is defined by your organization through easy white labeling.
The following capabilities are available out-of-the-box for all applications, with zero coding.
Snap, dock, tile, and tab any window
Save and re-launch windows in the same position and with the same content
Floating, dockable toolbar that launches apps and manages workspaces
Logical Integration
Applications communicate and work together no matter the language they're written in—even if you don't have control over the source code.
Logical integration allows you to create flexible workflows at scale.
Drag and drop data from one app to another to selectively share context
Applications can send and receive data according to FDC3 standards
Extensible architecture allows firms to create custom, low-code workflows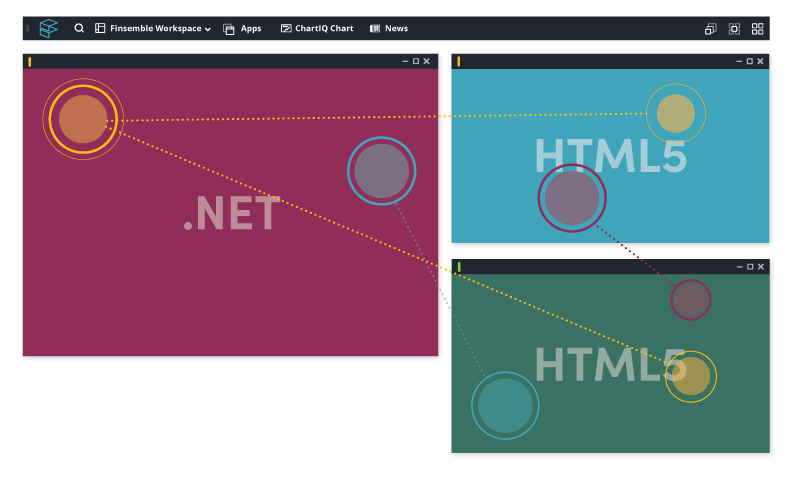 Industry-Leading Native Support
With Finsemble, get the tools you need to seamlessly incorporate native applications into your smart desktop workflows. Because the majority of our client's apps are native, we're committed to making these applications they use every day equal participants on the desktop. You won't find native support like ours anywhere else.
Learn more
The Scaffolding for You to Build Upon
You can build all of this yourself, but why? Regardless of your existing application portfolio, you can take advantage of these out-of-the-box features that you won't find anywhere else. Save developer resources. Start to build immediately. Develop application interoperability on day one by connecting suites of legacy native applications with modern HTML5 apps. See our Finsemble Documentation page for more details. Supports both Windows and Mac OS.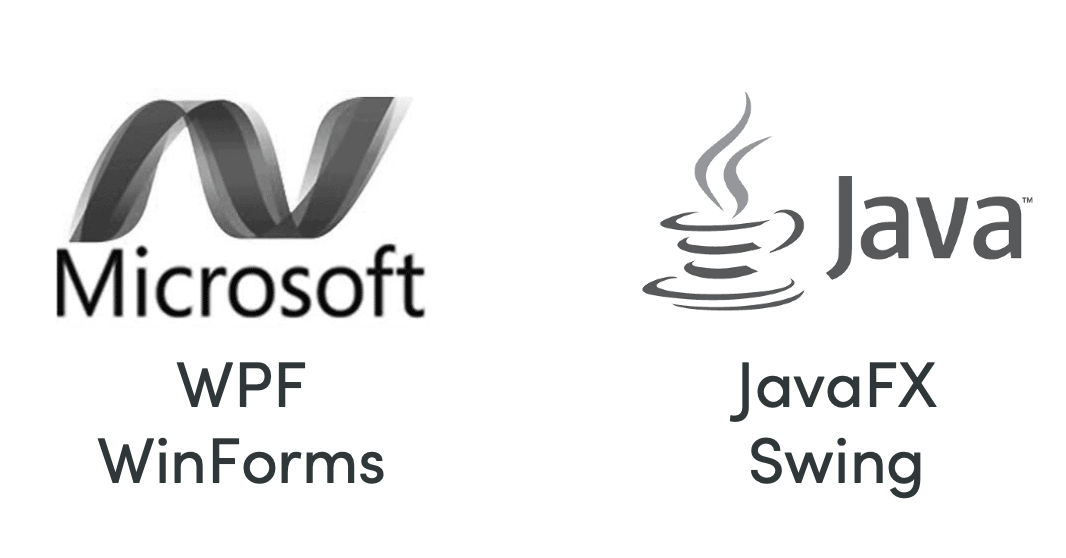 Developer advantages:
Keep teams working on the frameworks they know, like Angular & React
Enjoy a robust developer experience with the power of Typescript
Integrate WinForms, WPF, or Java applications with ease (Learn more)
Lightweight, modular web deployment for immediate scalability
Start Building Today
The Future of Work. Intelligent, Streamlined Workflows.
Sharing data between applications is just step one. The workflows our clients build are the real game-changer. Check out this Finsemble demo featuring a workflow with Symphony.
More Workflows
Redefine Your Desktop with the Finsemble Ecosystem
Supported by our fintech partners, the Finsemble Ecosystem allows clients to discover, choose, and combine third-party applications into a custom desktop solution. It's a smart solution that allows firms who license Finsemble to gain an entire suite of products for their smart desktop without dedicating additional time and resources.
Explore our ecosystem