Why is technical analysis so important?
Technical analysis focuses on examining and anticipating price movements in financial markets. Technical analysts learn to identify historical market patterns so they can predict forthcoming market trends and make smart trending decisions based on those predictions. Not surprisingly, an enterprise technical analysis solution helps visualize movements and patterns in a meaningful way.
To vendors and brokerages, a good technical analysis solution is key to attracting and retaining active traders. A weak technical analysis offering that doesn't advance along with new analysts, or impress current power analysts, will cost you valuable clients. By investing in a technical analysis charting solution with the most advanced tools on the market, you're guaranteed customers for life.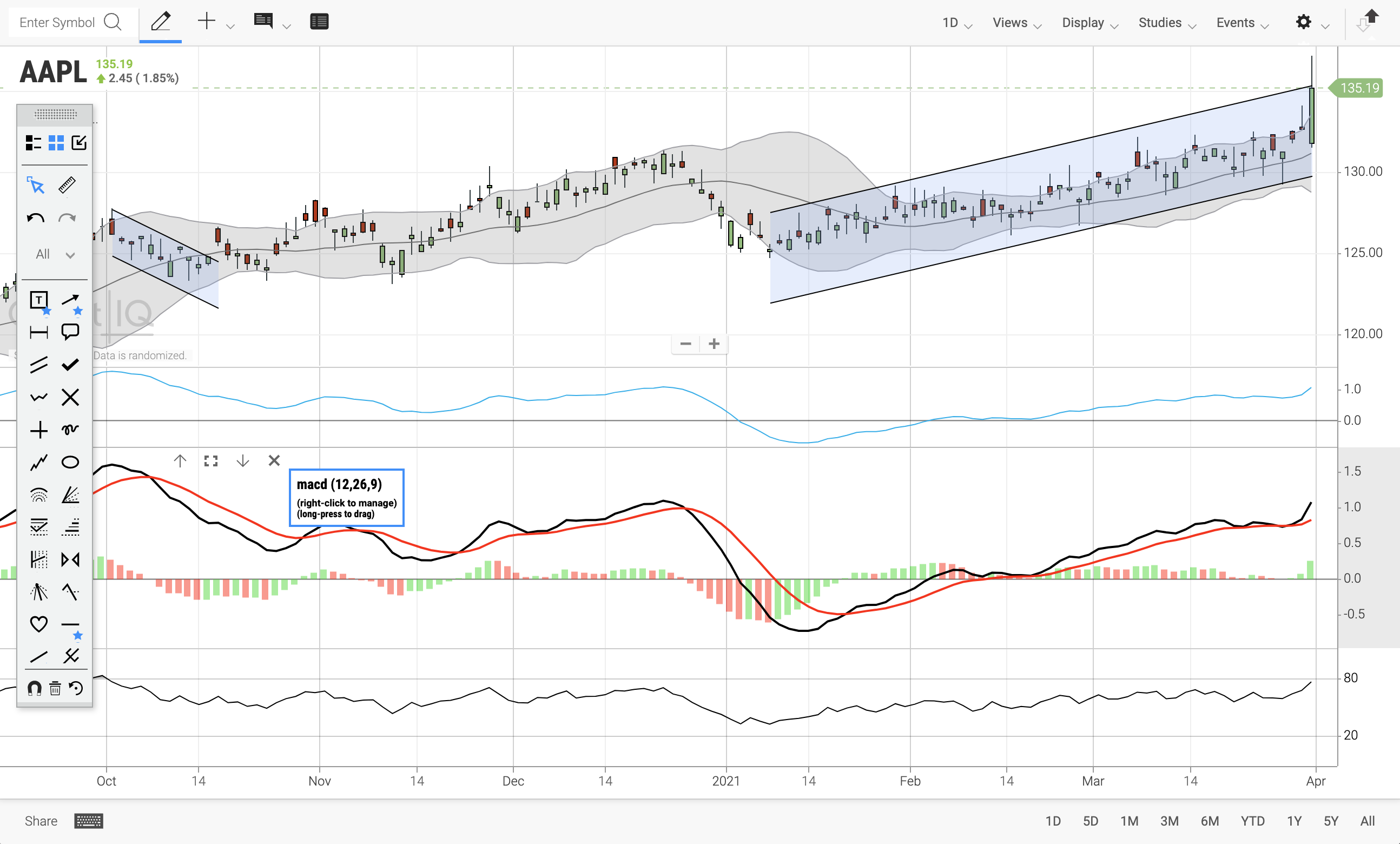 MACD and RSI studies below a candlestick chart with Bollinger Bands and channel lines.
Check out our commitment to giving traders advanced tools in this post,
Studies for Institutional Traders
where we feature our proprietary studies to solve the problem of finding intraday volume.
Shopping for a technical analysis platform.
When shopping for a technical analysis platform for your website or online brokerage, be sure the offering contains a wide variety of technical analysis charts and tools: both standard and niche. Technical Analysts depend on tools that help them find trends and patterns in the market. These tools become their arsenal with the goal of understanding and identifying chart movements, patterns, and market trends. Each technical analyst is unique and relies on a range of tools, from moving averages, oscillators, support and resistance levels, and technical indicators.
ChartIQ provides a truly comprehensive trading analytics platform.
Enrich your TA offering by incorporating any third party data including proprietary content, alternative data sets, or analytics from any data source. Gain insights with data forecasting.
Trades, research, news, and social or economic reports can be plotted directly on the chart as events, or visualized on the chart as swim lanes.
Plot multiple instruments across every asset class.
Draw from 125+ technical indicators, 20 chart types and a suite of advanced drawing tools.
Studies may be applied at any time increment and on any chart type, from sub-second bars to daily/weekly/monthly.
Apply studies to any chart type including Renko, Kagi and Point & Figure
See each trade as it occurs in real-time with scrolling tick charts.
SignalIQ lets users define signal events based on custom defined rules. The signal events appear on the chart as markers to aid and real-time and technical analysis.
Create linked graphic experiences with term structure, option curves and related cross-section plots
Advanced studies support Options Analytics and trading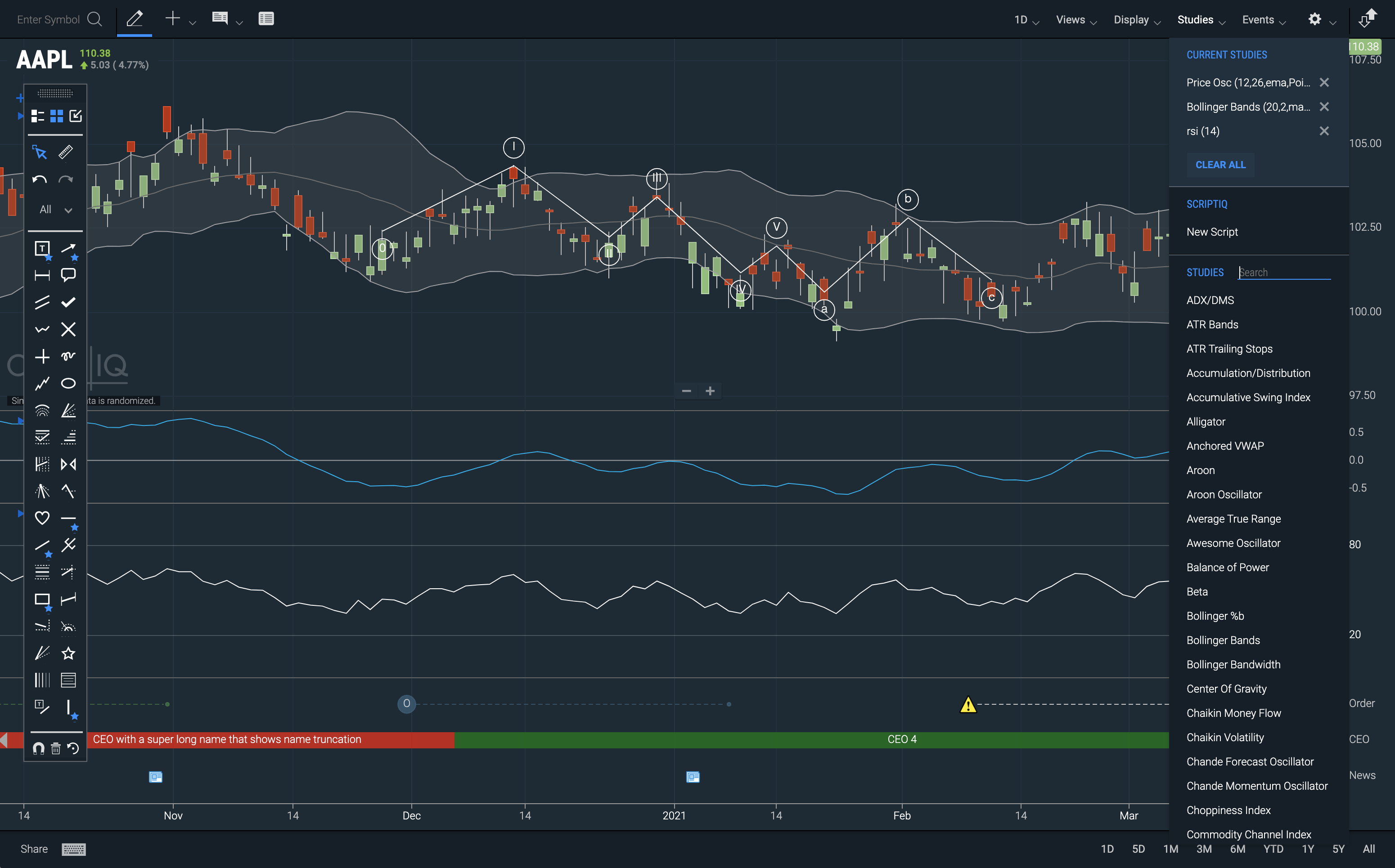 Price Oscillator and RSI studies below a candlestick chart with Bollinger Bands and Elliot Wave overlays. Drawing tools, events panel and 100+ studies dropdown shown.
What's included in ChartIQ Technical Analysis?
Technical Analysts depend on technical indicators (or studies) to help them predict what the price will do next. Drawing tools help traders visualize trends, and every trader utilizes a variety of chart types to see market action more clearly. See below list of what's included in ChartIQ Technical Analysis.
See Investopedia's article, 7 Technical Indicators to Build a Trading Toolkit. ChartIQ includes each and every one of these tools.
ChartIQ Technical Analysis Tools
Studies
MACD
RSI
Bollinger Bands
Williams %R
Alligator
Plus 100+ more
SignalIQ
Apply a signal marker to any study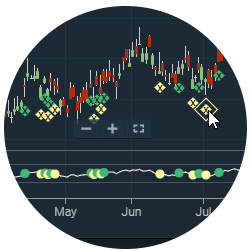 Drawing Tools
Annotation
Statistics
Technicals
Fibonacci
Elliott Wave Drawing Tool
Plus many more
Chart Types
Bar
Colored Bar
Baseline
Hollow Candle
Volume Candle
HLC Bar
Scatter Plot (time series)
Heikin Ashi
Kagi
Line Break
Renko
Range Bars
Point & figure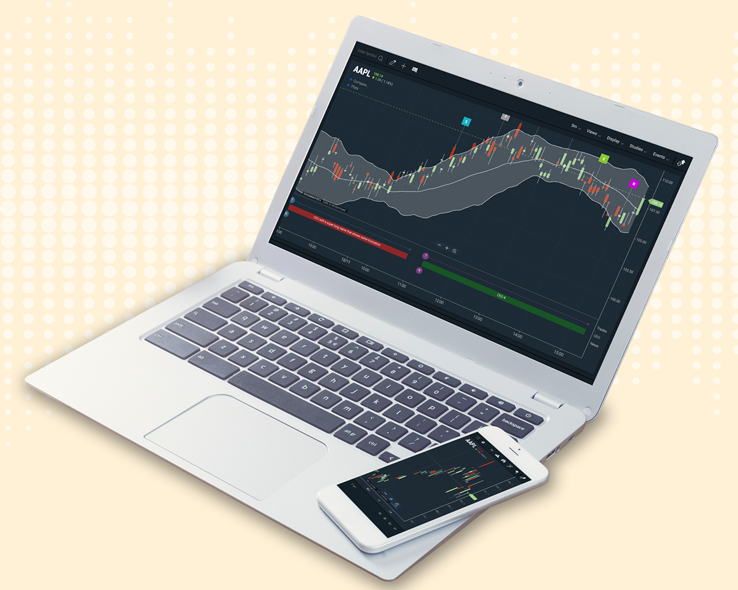 Technical Stock Charts with the power to do more.
Give traders an experience catered to their needs, whether they are generalists just dabbling in technical analysis or power technical analysts. Deliver a custom set of technical studies and drawing tools, and leverage our API to meet any UX design standard. Traders have the power to customize and integrate technical charts into their workflow.
The ChartIQ Difference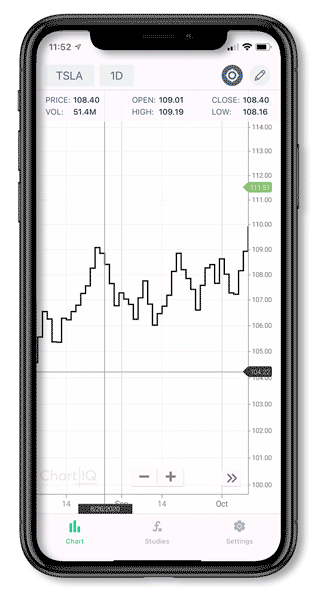 Unparalleled performance across any device.
Built on the HTML5 Canvas, ChartIQ is designed to handle 50,000+ data points, updating in real time down to the millisecond while continuing to deliver a fully interactive chart. Our JavaScript library runs on all modern browsers and touch-screen devices, and we now offer a mobile native application.
Visit our mobile page to learn more.
State-of-the-art customization.
Traders often demand extra customization. For those who want to model their own ideas, our ScriptIQ module allows users to program their own indicators and studies using Coffeescript syntax—a simplified syntax that compiles to JavaScript. Your studies are supported in our Study Calculator allowing inclusion in searching and alerting applications. Learn more about ScriptIQ.
Partnership Integrations.
Our Estimize plug-in gives users access to crowdsourced earnings and revenue estimates from 100,000 analysts. For more technical traders, the Trading Central plug-in provides expert analytics on over 72,000 financial instruments.
Contact us for a demo of ChartIQ Technical Analysis
Platform Feature Highlights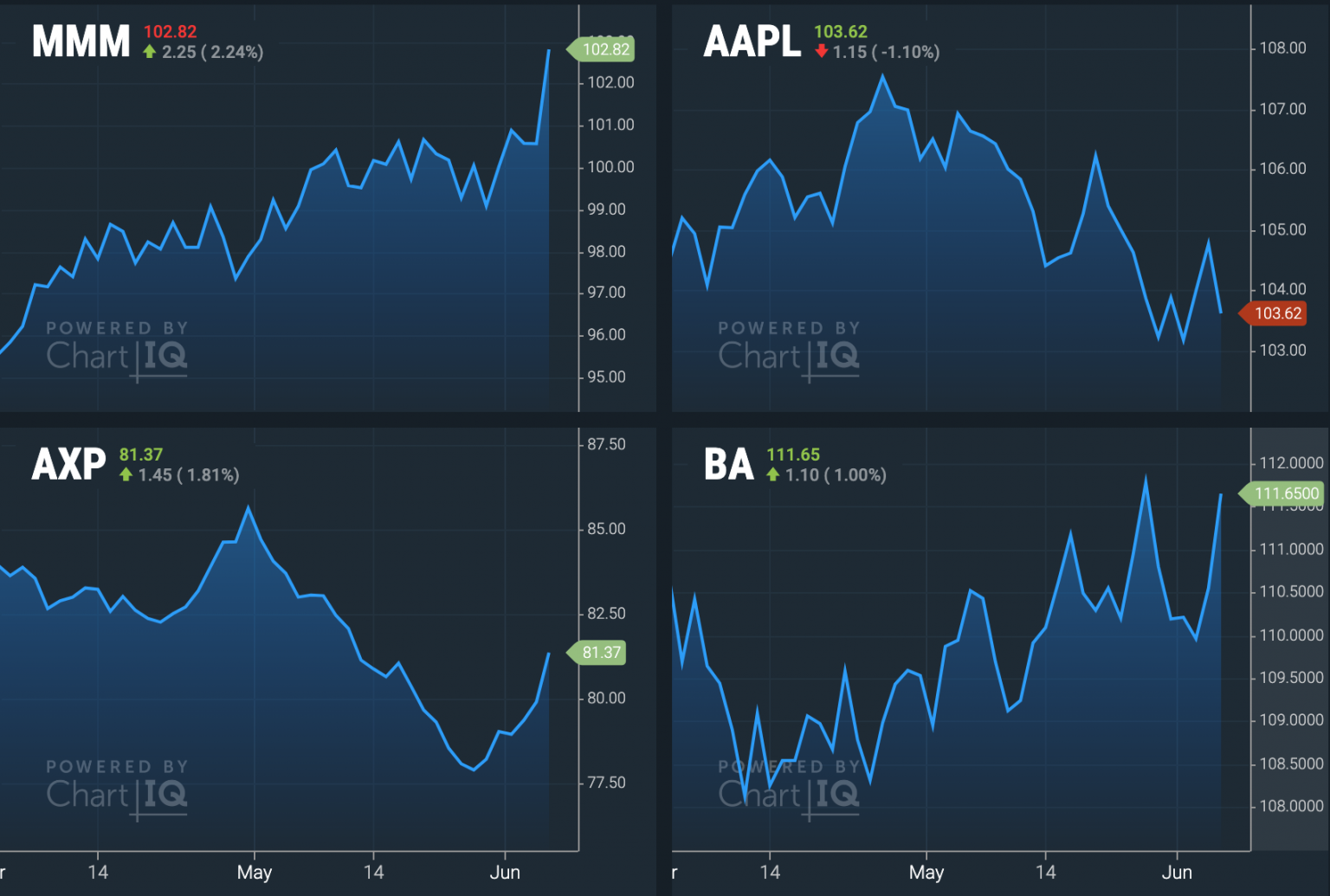 Allow users to apply any study uniformly across multiple charts with just one click. Up to 20 charts can be shown simultaneously, updating in real time.
Does your screener only provide fundamentals? ChartIQ Technical Analysis allows you to add technical indicators to your screener and alert engines. Traders gain an additional edge when they can search a universe of securities.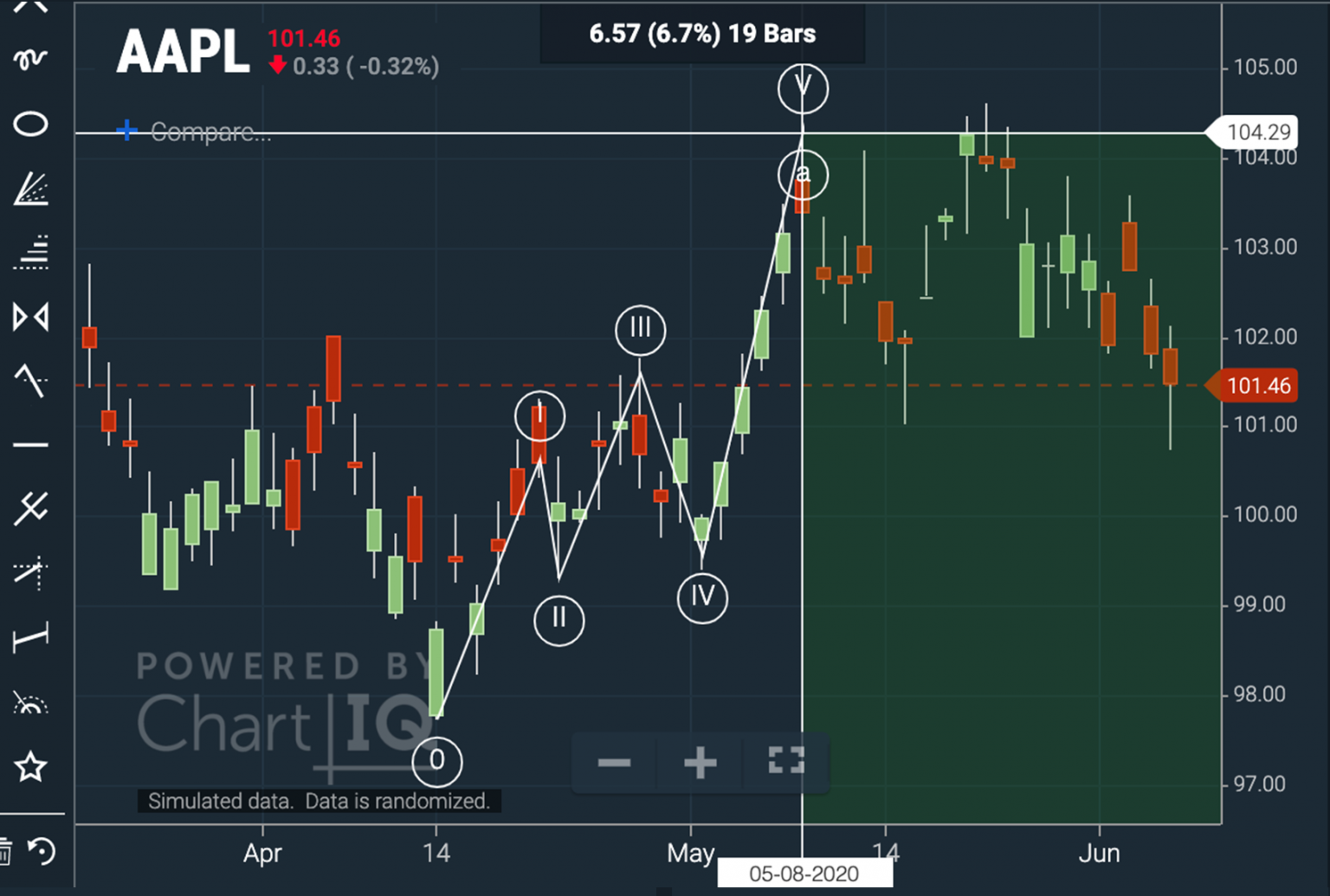 Enable users to automatically label impulse and corrective waves in accordance with Elliott Wave methodology.
Studies for Institutional Traders: Projected Volume at Time and Projected Aggregate Volume
Our ChartIQ 8.0 release includes two new studies we've built specifically for institutional traders, helping them solve the problem of analyzing intraday volume activity.
Read more